Easy as 1-2-3
Installing and starting to use VPN4ALL is quick and easy with our powerful yet intuitive VPN4ALL software interface.
1 Install VPN4ALLL: Simply follow the prompts in the Installation Wizard
2 Select a Location: Simply choose one of 80+ secure VPN4ALL server locations and click Connect
3 Click Connect: Wait for VPN4ALL to establish a secure connection
When the status bar in the VPN4ALL software turns solid-green, your new secure anonymous IP address is active and all the data you transmit online is protected with military-grade encryption!
1

Easy VPN Connection
Easy to Connect. Easy to Disconnect.
If you are looking for a personal VPN service that is not only powerful and 100% secure but also easy to use, and most importantly, time saving; VPN4ALL gets the job done every single time. This means that setting up a VPN connection is something that you no longer have to worry about. Enjoy easy access to all the VPN4ALL secure global VPN servers, connect, disconnect and reconnect your VPN4ALL with one click.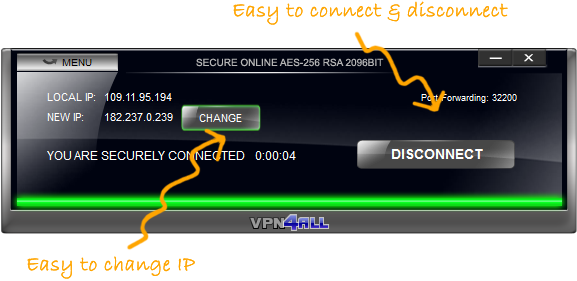 Easy to Change IP
With VPN4ALL you get access to a pool of 10000+ (and growing) IP addresses in over 50 countries (80+ cities) worldwide. Every time you connect with VPN4ALL, our system randomly assigns you a new anonymous local IP address in a location of your choice. Changing your assigned anonymous local IP address is easy – simply click the Change IP button and VPN4ALL will assign you another IP address from the pool of IP addresses in the same location.
2

Easy VPN Server Selection
Clear Server Indication
Designed to make a pro-grade VPN service accessible to even the most computer-challenged users, VPN4ALL makes blindly connecting to one VPN server after another looking for the right one a thing of the past. The powerful and smart VPN4ALL VPN software interface automatically informs you about available and not available server locations, real-time server load, per-server location P2P traffic permission, the fastest server in your server list, and allows you to set and utilize your favorite server locations and your personal fixed IP address.
Fastest Server
No more slow streaming, downloading and VOIP when using a Personal VPN Service!
The VPN4ALL server network has been engineered to do more of what you want to do on the Internet – only faster.
With the VPN4ALL Fastest Server and real-time Server Load indicators you can always see which server location in the server list in your VPN4ALL VPN Software will provide you with the best speed at the time.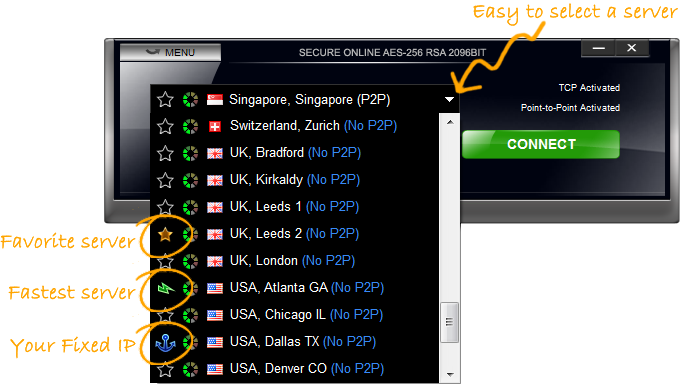 Same IP Address. Wherever You Go.
VPN4ALL includes a key piece of functionality that can help you secure your online shopping and banking wherever you are – a Fixed (Anchor) IP address with each account. At VPN4ALL we make sure that all our IP addresses are always clean and are correctly resolved by MaxMind's GeoIP check with 100% accuracy of the GeoIP City on a city level, country by country for all our server locations. You can easily set and change your Fixed IP address whenever you need it.
Remember Your Favorite Server
With 80 (and growing) server locations worldwide it's getting difficult to remember your favorite VPN4ALL server locations. The smart interface of the VPN4ALL VPN Software allows you to easily mark your preferred server location in the drop-down list of your VPN4ALL software as Favorite. Next time you select a server location to connect; there is a yellow star to the left of the server location you've marked as your Favorite!
3

One-Click IP Change
Forced IP Change
With VPN4ALL you not only get a new local IP address in one of 80 locations worldwide, but you can also change this IP address whenever you need to – with one click.
Every time you connect with VPN4ALL, our system assigns you a new anonymous local IP address in a location of your choice.
The "Forced IP Change" in the Options Menu allows you to add a "Change IP" button to the main window of your VPN4ALL VPN Software and to change the new IP address assigned to you by our system instantly – with one click.
There are 10000+ (and growing) IP addresses in our network!
Timed Auto IP Change
The "Auto IP Change" option allows you to get a new local IP address in a location of your choice every few minutes. The timed automated IP change is based on a time interval set by you in the Options Menu of your VPN4ALL VPN Software.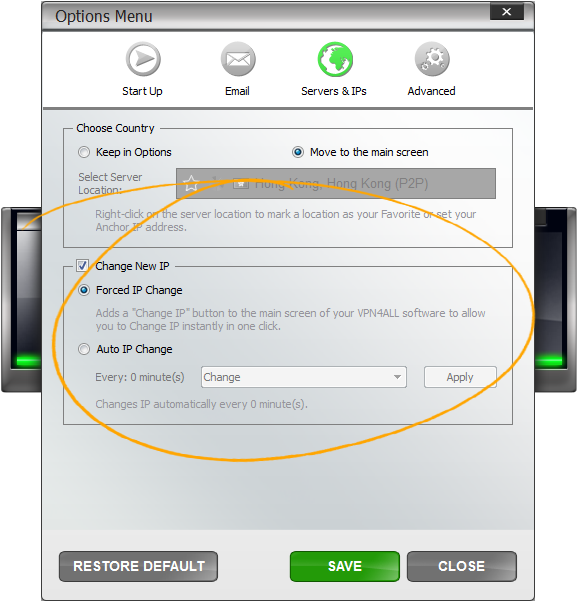 4

Advanced Security Options
Bypass Restrictive Firewalls
No other Personal VPN Service can get you through a highly restrictive firewall? VPN4ALL is the first VPN Service on the market that offers a solution!
We create a direct network link between your VPN4ALL VPN Software and our server which is even more secure than the regular VPN connection, and gets you around highly restrictive firewalls as long as you have at least 1 port open.
That, in combination with our secure TCP VPN servers, will help you bypass highly restrictive firewalls – corporate, government or otherwise.
Add a Proxy
Add an independent HTTP, HTTPS or SOCKS proxy to your VPN connection for full bullet-proof anonymity online.
When enabled, the proxy mediates between your VPN4ALL VPN Software and the Internet resources you access, providing a safe passage for data without revealing your new VPN4ALL IP address.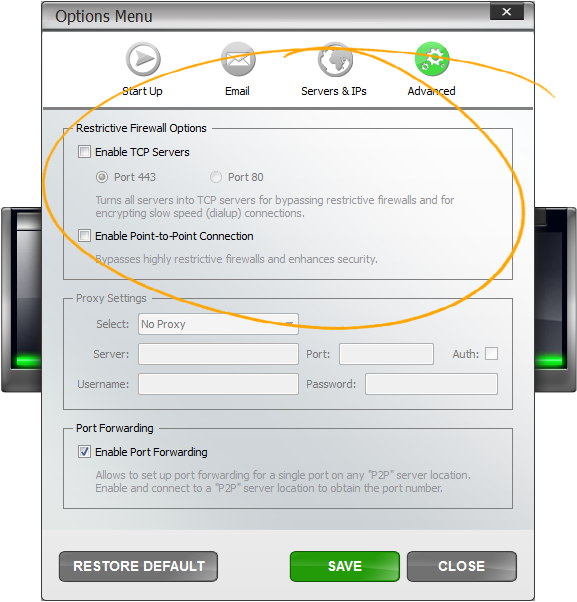 5

Set Up Port Forwarding NEW
Don't Compromise on Security
VPN4ALL now supports Port Forwarding, in case you need it.
With VPN4ALL, you no longer need to weaken the security of your computer and increase your chance of an attack by opening ports on your router or firewall (for example, to allow a P2P application to connect properly).
When connected to VPN4ALL, the IP address you show to the outer world is no longer the IP assigned to you by your ISP and managed by your router, but that assigned to you by our system and managed by our secure VPN4ALL server in the location of your choice.
Our Port Forwarding feature allows you to enable port forwarding for a single port on any of our P2P-friendly server locations, allowing a P2P application to connect properly, increasing your P2P performance while not reducing your online privacy and security.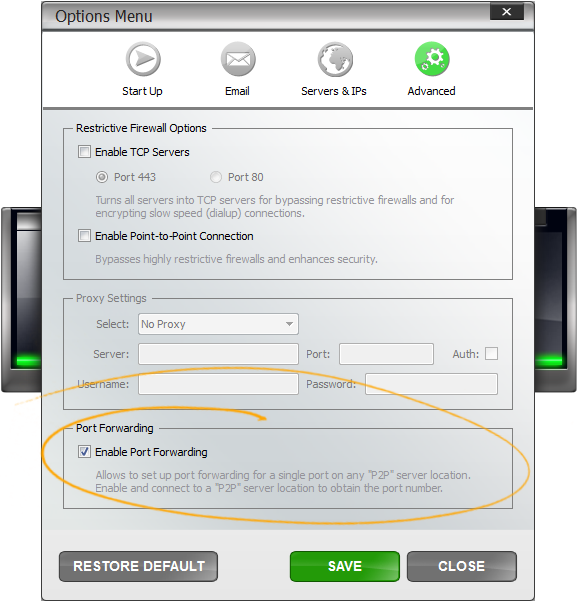 6

Use Your Email Client
No Need to Disconnect
Rely on an email client (Outlook Express, Thunderbird, Eudora, etc) to compose and receive email messages?
While you should have no problems receiving messages into your email client when connected to VPN4ALL, like many other VPN services we do block the SMTP ports. That's to prevent SPAM abuse of our servers and IP addresses.
However, with VPN4ALL, there is no need to disconnect your VPN in order to send out an email!
Simply enter the SMTP address from your ISP or your email provider into the corresponding field in your VPN4ALL software, and allow your email client software to connect!
Note: Your mail is sent out directly via your Internet Service Provider or your Email Provider.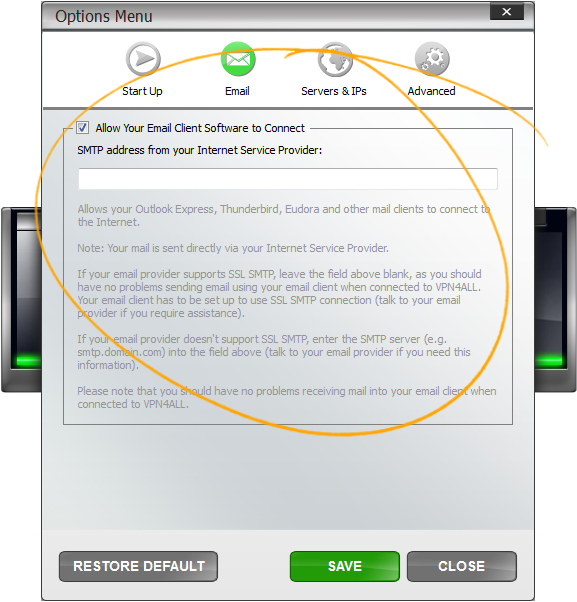 7

Useful VPN Automations
Auto Launch at Startup
For those who prefer to have their VPN4ALL application open pretty much all the time, it's good to have the VPN4ALL VPN Software launch automatically at startup.
Our "Auto Launch" option allows you to easily manage (turn on and off) an automatic launch of the VPN4ALL Software at startup or reboot of your computer.
Auto Connect at Startup
If you won't browse the Internet without VPN4ALL protection, VPN4ALL provides you with a handy option to automatically protect your Internet connection with VPN4ALL every time you startup or reboot your computer.
You can even choose your VPN4ALL to automatically connect to the fastest or to your favorite server location.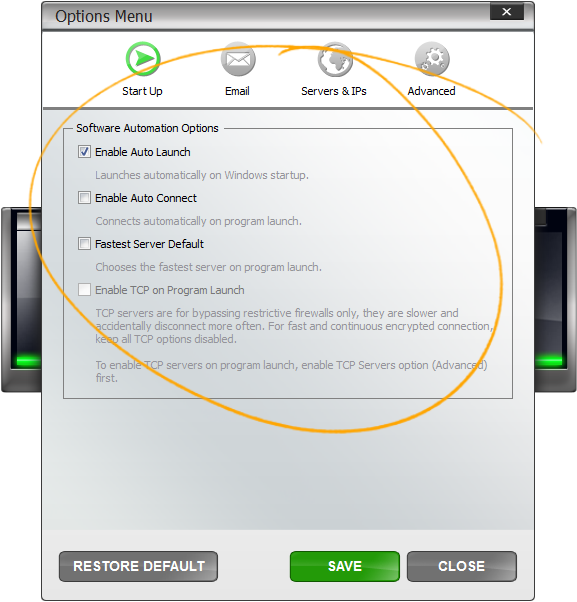 Automatically Up-to-Date
At VPN4ALL we are constantly working on providing our users with new useful features as well as improving VPN4ALL security. That's why it's important to always keep your VPN4ALL software up to date. Updating your VPN4ALL software automatically with our built-in software updater is easy. When a new version of VPN4ALL is available for download, you'll see a message about it in your application. Updating is easy – you are ready to use your up-to-date VPN4ALL within one minute.
It is always a good idea to update because with updates comes more security, server locations and IP addresses.
8

Secure MyAccount Space
My Account Reporting
Every free and premium VPN4ALL user gets a secure dedicated Client Area space. You can access your personal Client Area directly from the main menu of your VPN4ALL Software. All information in your Client Area is protected with 256bit SSL encryption.
Your personal secure Client Area page is created on a different, unique URL every time you press the My Account button in the main menu of your VPN4ALL Software so that no one else can access it after you securely exit the page.
Self-Management
VPN4ALL license and account management is highly automated and designed to give you as much control as possible over your own account and services while safeguarding your privacy and anonymity. Our sophisticated self-management tools allow you to have full control over your personal information on record with us, such as email address, billing and credit card details, view your real-time bandwidth consumption, upgrade or renew your VPN4ALL plan, cancel recurring billing, access online trouble ticketing and more.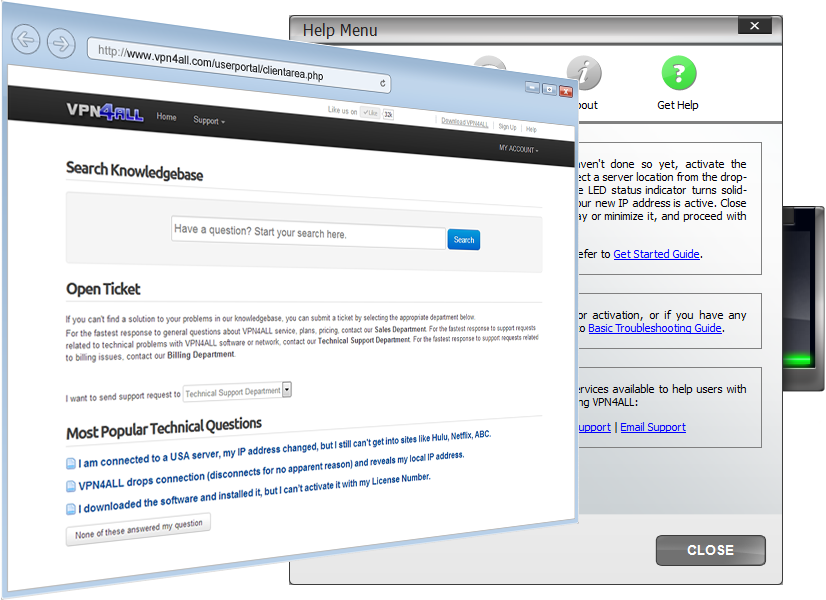 9

24/7/365 Support
Rapid Response Customer Service
VPN4ALL prides itself in providing great support to our customers. Our support team strives to provide fast, friendly, in-depth and up-to-date responses to all email support inquiries in just 1-2 hours, 7 days a week. As a VPN4ALL user you will benefit from our rapid responses to your questions not only by email, but also by live chat. Our Live Chat support is available 7/24 and can answer pre-sales questions and help you with basic technical issues. We also use TeamViewer.com to help our computer-challenged customers resolve even the most difficult technical issues and get the most of our product.
VPN4ALL Knowledge Base
Prefer solving problems on your own? Our self-service section of our Help Center provides you with 24-hour access to the most extensive knowledge base in the industry with hundreds of articles and a range of easy-to-follow how-to manuals and video guides to address the most frequent issues you may encounter.
Use it to search through expertly compiled information that can help you solve any problem you are having – or just get in touch with support.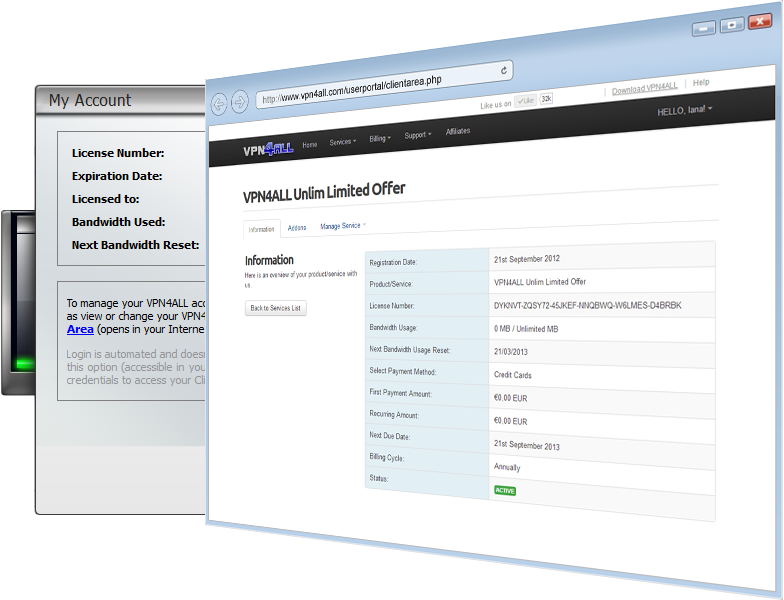 System Requirements*

Windows PC / Surface
Windows XP SP2 or higher
Windows Admin Rights
Active Internet Connection

Mac Computer
Mac OSX 10.5 or higher
Note: Power PC Intel Chipset
Administrator Rights
Active Internet Connection

Android Phone / Tablet
Mobile Plan with Internet
or
Access to WiFi

iOS Phone / Tablet
Mobile Plan with Internet
or
Access to WiFi
* Not sure if VPN4ALL works on your device? Ask support ⇨.
Frequently Asked Questions
Do you have software for Linux?
Not at this time. We know there are Linux people out there who do use VPN4ALL with the native OpenVPN setup. While we do allow this, we don't provide technical assistance with native OpenVPN installation and setup.
Do I need to install a software on my mobile device?
Using VPN4ALL on a smartphone or a tablet PC DOESN'T require a software. We simply provide you with a license number and settings to connect your mobile device to VPN4ALL over IPSec VPN that's built-in into your mobile OS. Note that you won't be able to use a PC/Mac VPN4ALL license on a mobile device. See Mobile VPN4ALL page for details.
Can I use VPN4ALL without installing the software?
We know there are people out there who do use VPN4ALL without installing the software (for example, as a part of their own applications). While we do provide such users with all the required information, we don't provide technical assistance with setup.
I'm not computer savvy. Can you help me install?
Installing VPN4ALL is as easy as installing other Windows and Mac applications. However, if you run into a problem of any kind during installation or when using VPN4ALL and are not able to troubleshoot it yourself, our technical support will gladly assist you through Remote Access.
Where can I learn more about VPN4ALL server network and security?
See VPN4ALL Network and VPN4ALL Security pages for details of the VPN4ALL server network and security.

FEATURED PLAN
VPN4ALL-Unlim
16.95
per
month
STREAMING & DOWNLOADING
Unlimited
Bandwidth

ⓘ
or